MPSP SPRING SCHOOL 2022
Bad weather, good mood and even better science!
"Science has always been building bridges" - this quote of our MPSP speaker Gerd Leuchs at the fireside evening of the MPSP Spring School actually referred to the role of science in times of crisis. However, it is also a perfect headline for the recap of this great event. Our PhD candidates and Fellows have once again shown how quickly bridges can be built between research fields, institutions and nationalities if a common passion for science is shared.
Due to the pandemic situation in Germany, it was not certain for a long time whether and how the Spring School 2022 could take place. All the happier we were when we finally started our journey to the Spring School on April 5 - with over 300 Corona rapid tests and a van full of streaming technology in our luggage. 300 km on the highway and 3.5 hours later, the first thing our 9-member team had to do was set up! The technology, reception desk and poster walls had to be in place by the time the first PhD candidates and Fellows arrived in the evening. The get-together was followed by the traditional MPSP pub quiz. Would you know to which country the Easter Islands belong? The MPSP members put up a brave fight and answered even such non-photonics questions perfectly right.
Day 1: Personal Insights of MPSP Speakers and Lectures on "Imaging"
The official welcome session the next morning was hosted by our speaker Andreas Tünnermann in a hybrid format, so the PhD candidates and Fellows who were not there could also participate. In a very personal interview, the PhD candidates learned, why a block of concrete played a decisive role in Andreas Tünnermanns own doctorate and why it is always good to have a plan B and C in your mind. In the afternoon, it was time for the doctoral students to open their ears and turn on their brains! Three of our Fellows - Rainer Heintzmann, Maria Chekhova and Tim Salditt - gave insights into their research around the topic of "Advanced Imaging" in an exciting lecture series. After so much scientific input, the evening was more dedicated to relaxed exchange. MPSP speaker Gerd Leuchs gave personal insights into his career and answered the PhD candidates' questions at the "fireside evening".
Day 2: Next-Level Networking: Poster Session and Career Insights
That April weather does whatever it wants became clear the next morning: the social activities - teambuilding on the banks of the Main, a guided tour of Frankfurt and a visit to the Senckenberg Museum - were somewhat blown by the wind and rained out. But after a hot shower and a delicious lunch, everyone was fully motivated for scientific networking again! First, MPSP Ombudsperson David Hunger invited the PhD candidates to an internal session on good scientific practice. After that, all Fellows were allowed to join the discussion again and a lively poster session took ist start. Finally, MPSP PhD candidate Katsuya Tanaka took home the Best Poster Award - but without a doubt, all posters were great evidence of the top research in the MPSP.
The last evening was dedicated to career orientation. With Hubertus Marbach and Patrick Villwock (Carl Zeiss AG) and Katharina Suter and Boris Lange (Edmund Optics), four industry representatives gave insights into potential career paths. The industry perspective was complemented by career insights from our MPSP Fellows highlighting the benefits of academia – an inspiring evening, according to the PhD candidates!
MPSP doctoral students sharing their current research findings.
Students and Fellows discuss at the poster session.
Best Poster Award winner Katsuya Tanaka explains his research to a fellow student.
Completely focused on research: PhD candidates continued the poster session during breaks.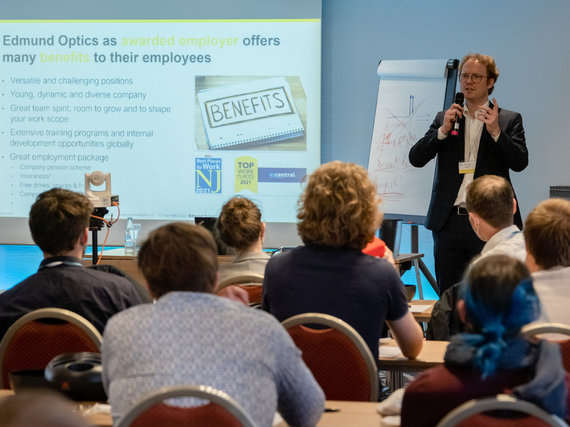 At the career evening, company representatives and MPSP Fellows provided insights into various career paths.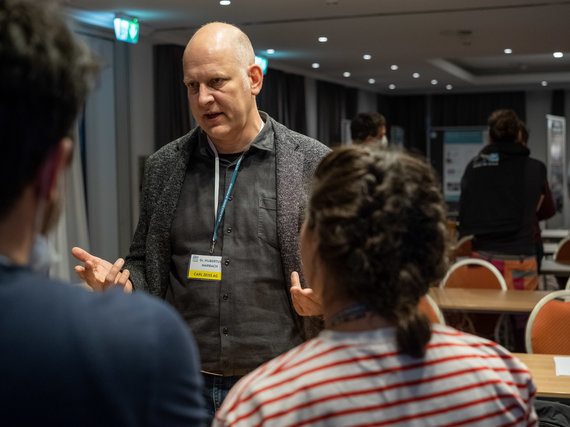 Industry or Academia? This question was discussed particularly controversially at the careers evening. 
Day 3: Hands on!
But we had saved a very special highlight for the last half day: Two hands-on workshops! The MPSP PhD candidates and Fellows were spoilt for choice: They could either learn more about the open source electro-optical microscope kit "UC2" from our newest team member Barbora Maršíková and her colleague Eda Bingöl, or get hands-on with a quantum optics setup from Thomas Kaiser and Björn Habrich (qutools GmbH). Both workshops were obviously a lot of fun for the PhD students, so that it was all the more difficult to say goodbye afterwards.
Barbora Maršíková (right) and Eda Bingöl (left) crafting on their "UC2" electro-optical microscope kit.
Thomas Kaiser (left) and Barbora Maršíková (right) pitch their two workshops at the MPSP Spring School.
Crafting time! During the workshops, the students were of course allowed to lend a hand themselves.
...and the Lego-like construction of the UC2 microscope kit really encourages a playful approach to science!
Meanwhile, next door, complex quantum experiments become tangible in minutes.
We are already looking forward to the Autumn School 2022, would like to thank all those who participated in the Spring School 2022 or even hosted an own sessions, and will remain virtually active and networked until next time!
(c) Pictures: Jens Braune del Angel | Christian Kuttke