MPSP Lecture Series 2023
Firsthand photonics research news - join the free lectures of our Fellows!
The science of light has just as many facets as light itself - from nanophotonics to quantum optics or strongfield physics there are countless interesting fields of research. Our MPSP Fellows, i.e. researchers, are active in many of them. At universities and non-university research institutions, they work to elicit all the secrets of light and to make it usable for mankind in a wide variety of ways.
And now you can get some insights into this research! From September to December 2023 we'll again have an exciting MPSP Lecture Series for you (almost) every Wednesday at 5 p.m. CET (= 3 p.m. UTC | 11 a.m. EDT | 8.30 p.m. IST). A MPSP Fellow reports 45 minutes on her/his research. Afterwards, you can ask and discuss questions for 15 minutes.

The lecture series is completely free and takes place virtually via Zoom.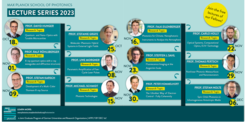 Past Lectures